Welcome to Flip Flop Farms!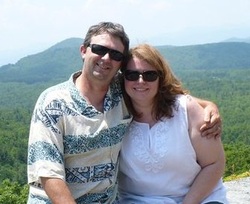 We're Jon and Ruthie Hanson, and for years we searched for our little slice of heaven where we could begin living our dream of a more self sufficient life. In 2005, we finally found it in the foothills of Western North Carolina. It would be 6 years before we would actually be able to call our 17 acres home and for Flip Flop Farms to be born.
I'll first answer the question we are asked most......where did the name come from? Well, it is a nod to where we're from and how we live. Jon was born in Australia (where they're called thongs, not flip flops) and I'm from the SC Lowcountry, which is where we met and lived until May of 2011.
We both practically live in our flip flops year round. The name, which began as a joke, just grew
on
us and stuck.



So, now we're here, and we're actually doing what we've dreamed of for so long. We're growing our own food, we're raising livestock, and we're working harder than we've probably ever worked in our lives. Neither one of us would change a thing. We sell our organically grown produce at the local farmer's market and on the local online farmer's market. Our Boer goat herd is growing very swiftly, in a joint venture with Jon's mom, who divides her time between Australia and here. Our hens (and now ducks) are laying eggs like there's no tomorrow.





On our website (or our Facebook page) you can see what we're up to at the farm, what livestock we have for sale and what produce and other farm products we have to offer. Our journey is just beginning. Thanks for coming along for the ride.






Jon and Ruthie





---
---
Flip Flop Farms, LLC. Rutherfordton, NC